Is a birthday magic show right for your child? What magic show does Chad Wonder perform for my child?
Your kids Birthday magic show will be a special time and create lifelong memories. You'll be happy to know that Chad Wonders birthday magic show is designed for the grade of your child… why grade and not age? In a nutshell, the difference in maturity between an 8-year old second grader and an 8-year old third grader is measurable due to their social development. Of course every kid is different and Chad ensures he gets a feel for the kids in the first few minutes (you'll see how he does it) and adjust the show accordingly. Since folks ask, here are some of the subtle differences in the magic show Chad Wonder presents.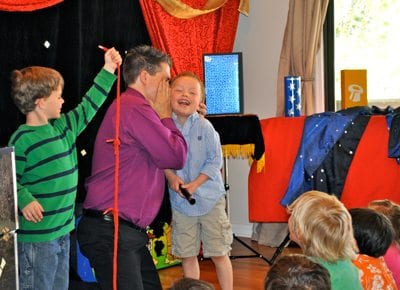 Pre-K
A birthday magic show is a great idea. The kids are young but Chad Wonder easily engages them for a full 45-minutes. The magic show is "super silly" with age appropriate jokes and lots of physical comedy. Often for this age group, parents choose to have the magic show on a school day in the and for the entire class. A show is great but for an in-home or club-house birthday consider an upgraded package that includes balloon twisting.
Preschool
The kids magic show Chad performs for this crowd is fun and lively; the magic show is very interactive and Chad performs everything in his signature hilarious fashion! The birthday child becomes the star magician and helps-out with many of the magic tricks and even picks his or her own assistants. Preschoolers love twisted balloons so consider an upgraded package.
K 1/2
Kids this age are fascinated by a magic show. The magic show is exciting, fast paced and involves the kids at every turn. Your birthday child is the star of the show and even perform magic Chad didn't know would happen. Choosing an upgraded magic show package with magic lessons is a good choice and replaces your need to buy bouncy balls for a goodie bag. Balloon twisting is a slam dunk for kindergartners and 1st graders… and it's hit or miss for the 2nd graders.
3rd and 4th
At this age, the magic show has more tricks the kids think they have figured out only to be fooled in the end. Your birthday child will pick out their assistants for tricks and he or she will perform a large portion of the magic. Each magic show is a bit different; the show for a 3rd grade girl will differ from one for a 4th grade boy. I craft my show fit the audience. Chad highly recommends upgrading to a package that includes magic kits, this is a lot of fun at this age. You may also substitute the floating kid for Chad's kinda' scary sawing in half. Balloon twisting is "a maybe" for the 3rd graders and an almost certain no for the 4th graders.
5th and 6th
Chad scripts a custom magic show based on your kids interests. From close up tricks to smaller living room illusions, Chad will talk with you and help to determine the best fit for your kid. Chad recommends upgrading to a package that includes lessons, this is a great upgrade and the kids get either a trick deck of cards or other more advanced magic kit. You should also substitute the floating kid for Chad's really scary sawing in half.
Special Needs
Chad has experience performing for kids with special needs and presents a unique and enjoyable experience for the kiddo. With so many different facets that affect these amazing friends lives, Chad spends about 30-minutes prior to the show talking with mom and dad or caretakers to carefully understand how the child processes the world. This allows Chad to create and amazing experience.